Visit Santa and send him e-mail!
Mother's gift helps kidney recipients.


The sheer number of women going
online is skyrocketing.


Great publications and music to
soothe you and your offspring.


Visit the Women's Circle for live chat
with mothers and women on the net!


Mothers need a support network.
Participate and share your experiences.


Feel the motherly urge to contribute?
Send us your story submissions!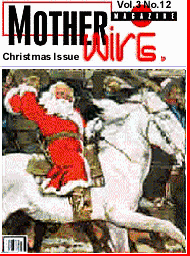 Must policemen obey trafffic laws?
Colleges can't teach reading.



Here's the best source for multicultural
names and etymology on the web.


Job application process can be a fiasco.
This PhD is assigned to remedial reading.


Why do children continue to misbehave?
These new books can help you time out.


Bell Atlantic benefit plan discriminated
against mothers on maternity leaves.
Law School slanders woman student.


Past issue Archives of Mother Wire.
The best kind of learning motivation.


Web links for information on missing
children, safety issues and more.


Don't forget to subscribe to
Mother Wire's e-mail newsletter.